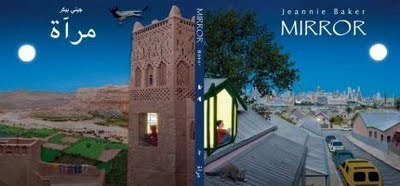 Mirror
by Jeannie Baker
2011
Mirror
is a wordless picture book. But it is so much more than that. There are two stories told simultaneously, one in Australia and one in Morocco. The layout of the book is captivating and hard to describe without an image:
We follow a day in the life of two boys in completely different parts of the world. Their lives seem to be completely different, until page by page we see cross overs and realize that they have more in common than we thought at first. The Morrocan boy's family has weaved a rug which we later find out the Australian boy's family purchases. The ending images show us how closely linked we all are by technology and imagination
.
Mirror
is a work of art. The collage illustrations are beautiful, but it's the overal design of the book that really makes it stand out. It's a beautiful book to share in the multicultural classroom and offers many possible lesson on globalization and text innovations where two students could write each of the two stories.